As I've mentioned before, I don't own a scanner nor fashion magazines. I simply rely on contributions from my good friends on the net. When I started building my first site on Raica, what I did was to gather pictures of her on the net and I simply placed them on the site. I never really expected people to email me scans & info on the model. It was a surprise, actually, and it was also a good thing. I got to meet new friends with similar interests, and until now we still keep in touch. I would like to thank them for helping me out with my web sites.
The regular contributors: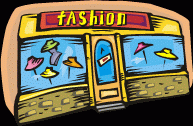 Fashion... models...

What's on your mind? Share your thoughts, ask questions, give comments... whatever! Post messages on the FORUM.


Hey! Don't forget to sign the Guest Book. You may also view other guest entries. Thanks!
(Still thinking of a poll question)